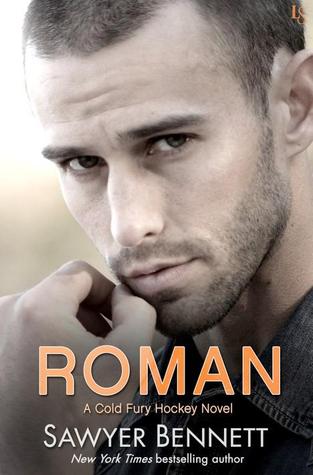 New York Times bestselling author Sawyer Bennett steams up the ice all over again as the Carolina Cold Fury hockey team's hottest bad boy gets his first taste of something good.

In a league full of troublemakers, Cold Fury defenseman Roman Sýkora stands out—at least when it comes to negative publicity. When he's not chilling in the penalty box, the sizzling Czech skate demon is racking up tabloid headlines for his scandalous behavior with the ladies. But now Roman's feeling the burn from management to clean up his act, or else. Luckily he's got an enticing distraction: a fun-loving barista who plays the ukulele and brings out a side of Roman he didn't know he had.

Lexi Robertson came to Raleigh, North Carolina, to finally meet her father, Brian Brannon, and her half sister, Gray, both of whom work in the Cold Fury's front office. That's where she first meets sexy, intimidating Roman—who's really a big softie at heart. As one relationship takes off, another begins: Brian seems to be clicking with Lexi's boss at the coffee shop. But when the friction between Roman and her new family heats up, Lexi wonders whether she's a pawn in their game. Feeling hurt and foolish, Lexi's ready to quit while she's ahead. Trouble is, Roman's not ready to quit on her.
I love the Cold Fury Hockey series. Every time I read the next book in the series I feel like I cheated on the last one. Roman is no exception. This story pulled on my heart strings.
Lexi Robertson had no idea growing up that her father was none other than Brian Brannon, owner of the Cold Fury until her mother revealed the truth on her death bed. The Brannon's are Lexi's chance at a family.
Roman
Sýkora is Cold Fury's bad boy. He's been pushing his luck with the Cold Fury management. Gray Brannon has put her foot down and given Roman a strict directive to clean up his act. Roman doesn't take orders well. He grew up with absent parents and has been taking care of himself since he was sixteen.
It doesn't take long for Roman to make his move on Lexi. They instantly hit it off. Love is in the air until Lexi is warned by her half sister Gray about Roman's bad boy behavior and negative reflection on their family name. Lexi doesn't want to ruin her chances of having a relationship with her newly found half sister and ends it with Roman. Lexi is miserable with her decision. Can she find away to make herself and her sister happy?
The family conflict is full steam ahead with Gray and Roman at each others throats. Gray is pregnant, hormonal, jealous and struggling with Lexi's relationship with her father. Not only is her Father, Brian, excited about having another daughter but he has also met a woman. The feuding hits a boiling point that sends Lexi over the edge. Oh the conflict, it was a real page turner. I loved Lexi, she's hopeful and has a big heart. She really wants a family even willingly putting her own happiness aside. Her relationship with Roman is heart warming. I enjoyed Brian's interwoven story, although I would have loved it as a novella. Maybe there's still a chance. I hoping for a novella that includes a wedding. Wishfully thinking. 4.5 Stars!