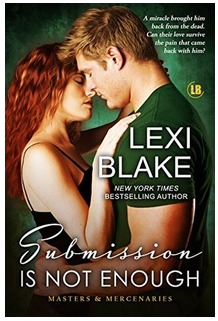 A fallen hero reborn

Theo Taggart lost everything the night he died. His family, his beautiful Erin, and worst of all, he lost himself. A twisted doctor brought him back from the brink of death, but reprogrammed his identity to serve her will. Rescued by his brothers, he must fight to reclaim the man he was and the life, and love, that were stolen from him.

A love worth fighting for

Erin Argent thought she'd lost Theo forever. When he walked back into her life, it was nothing short of a miracle. Months of torture and conditioning at the hands of Dr. Hope McDonald have done damage to Theo that may never be mended. He has no memory of her or the life they shared. Breaking through to him, and helping him rediscover all he lost, will be the toughest mission she's ever faced. Luckily for Theo, Erin loves a good fight.

Their reunion under siege

Unfortunately, Hope is far from done with Theo Taggart. Obsession with her prize experiment, she will do anything to get him back. If the only way to finally break him of his past life is to kill Erin and his son, then she's only too happy to oblige…
I have been waiting for Theo and Erin's story and it did not disappoint. Submission Is Not Enough is an action packed, nose breaking, tearjerker. Theo has returned but without his memory. Erin, who is now a mommy, pulls up her big girl panties and fights for what is hers. I love this series, each book gets better and better. The characters are well developed. You can feel their struggles, frustrations and resolve.
Theo Taggart is home but doesn't remember his family. He doesn't remember Erin the love of his life and when he tries to remember an extreme headache ensues. Since returning home Theo is a different person, he's more aggressive, darker and he doesn't feel any attachments including to his son. Erin will do anything to get Theo back. She wants them to be a family and gives it her all.
Back at the evil lair, Doctor Hope McDonald continues creating her family of soldiers by wiping out their memory and placing herself as their leader, their mother. Even though Theo had escaped, Hope McDonald continues to pursue him, he's her prize for all her hard work. She's building her own allegiance and she wants Theo by her side. He may have once escaped from her clutches but she's determined to take him back. Hope v. Erin
There's a trader in their mist and Theo and Erin are in danger. Plans are drawn and the fight is on. You don't want to miss the excitement and HEA. 5 Stars!